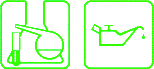 SynLube™ Lube−4−Life® 1−800−SYN−LUBE
2003 TOYOTA 4Runner


93,217 Miles in 1,462 Days WITHOUT OIL CHANGES !!!
SynLube™ Lube−4−Life® System makes it possible.


Owner: Arturo Capote, Sun Valley, California USA
Synner since February 10, 2003 @ 3,172
Following SynLube™ Lube−4−Life® products were used:
Motor Oil SAE 5W-50

used in the V8 4.7 Liter engine

MicroGlass™ Motor Oil Filter (Fnl)
TriMag™ Motor Oil Filter Magnet (2 units)
Automatic Transmission Fluid (ATF)
MAINTENANCE
93,217 Syn Miles without oil change and with three oil filter changes.
Oil Consumption
45,613 miles per Quart of ADD OIL
Additional Information
Vehicle sold @ 96,389 Miles on 2/11/2007
---
Home | Motor Oil | ATF | Gear Oil | PSF | Grease | Coolant | Oil Filters | Magnets | Brake Fluid | Gauges | Tools | Specials | Sale Items
Send mail to synlube@synlube.com with questions or comments about this web site.
Copyright © 1996-2013 SynLube Incorporated
Last modified: 2013-02-16
Lube−4−Life®   is a Registered Trademark of   SynLube Incorporated
---







This web page was successfully Validated as: "HTML 5 with CSS level 3" and tested in all above browsers