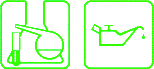 SynLube™ Lube−4−Life® 1−800−SYN−LUBE
2001 FORD F150

About 35,000 Miles in One Year WITHOUT OIL CHANGES !!!
SynLube™ Lube−4−Life® System makes it possible.


Leased to: Mike Anderson, North Hollywood California USA
Synner since 1/12/2001 @ 1,127 miles
Following SynLube™ Lube−4−Life® products were used:
Motor Oil SAE 5W-50

used in the 4.6 Liter V-8 engine

MicroGlass™ Motor Oil Filter (M22wm)
TriMag™ Motor Oil Filter Magnet (1 unit)
Gear Oil SAE 70W-90 (RE)

used in the Rear Differential

Automatic Transmission Fluid (ATF)
MAINTENANCE
NONE
Additional Information
Owner comment after SynLube™ installation: Michael Anderson used his ford truck to do a lot of heavy hauling.
It took a little while, but Anderson says the wait, and the price of changing to Synlube, was worth it.
"Within the third week of having put it in the truck and the vehicle itself, that's when it started feeling smoother, better gas mileage, by about three miles per gallon."
This leased vehicle was traded-in in January 2002 @ 36,000 miles.
---
Home | Motor Oil | ATF | Gear Oil | PSF | Grease | Coolant | Oil Filters | Magnets | Brake Fluid | Gauges | Tools | Specials | Sale Items
Send mail to synlube@synlube.com with questions or comments about this web site.
Copyright © 1996-2013 SynLube Incorporated
Last modified: 2013-05-13
Lube−4−Life®   is a Registered Trademark of   SynLube Incorporated







This web page was successfully Validated as: "HTML 5 with CSS level 3" and tested in all above browsers