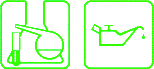 SynLube™ Lube‑4‑Life®

SynLube - Company Profile
Company Profile
SynLube Incorporated is the "first & still the only" "Green Oil" company in the World, that produces fully formulated Non-Petroleum - 100% Synthetic functional fluids that are available to consumers Worldwide in following use specific versions:
All above Functional Fluids (Lubricants, Fluids & Coolants) can permanently replace conventional Petroleum based products in all Automotive, Marine and Industrial applications.
SynLube Incorporated has pioneered the concept of "NO OIL CHANGE" in 1969!
Years before Mobil 1 was introduced; years before AMSOIL (then Amzoil ) started business - in USA.
How far can you go without oil change ?
Click button below to find out !

---
In December 2015 all assets of SynLube Incorporated were acquired by MIROX Corporation
---
All SynLube™ Products are proudly "Made in USA "