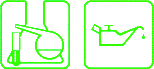 SynLube™ Lube−4−Life® 1−800−SYN−LUBE
1970 HONDA 600 AN Sedan

About 95,000 Miles in 10 Years WITHOUT OIL CHANGES !!!
SynLube™ Lube−4−Life® System makes it possible.


Former 2nd Owner (1979 to 1984): Deja Hsu, Sun Valley, California USA
Synner from 1977 to 1987
Following SynLube™ "Original Syn!" products were used:
Motor Oil SAE 5W-50

used in the 2-cylinder 625cc air-cooled engine
in this vehicle the 4-speed manual transaxle is also lubricated by the same oil supply

TwinMag™ Oil Filter Magnet (2 units)
Update: Sold by 3rd owner with about @ 95,000 Miles in 1987
Additional Information
This unique mini car that was sold by American HONDA in California from 1969 to 1972.
It had a two-cylinder air-cooled engine in unison with 4 speed manual transmission and Front Wheel Drive Differential.
Three quarts of oil lubricated all the internal mechanicals:

Engine
Primary Drive Chains
4-speed manual shift transmission
Differential

This car was completely remanufactured and equipped with

SynLube™

by M.I.K. Automotive, Inc. of North Hollywood, California USA in 1977 and repainted and upgraded in 1980.
---

Former 2nd Owner (1979 to 1984): Deja Hsu, Sun Valley, California USA
---
Home | Motor Oil | ATF | Gear Oil | PSF | Grease | Coolant | Oil Filters | Magnets | Brake Fluid | Gauges | Tools | Specials | Sale Items
Send mail to synlube@synlube.com with questions or comments about this web site.
Copyright © 1996-2013 SynLube Incorporated
Last modified: 2013-05-23
Lube−4−Life®   is a Registered Trademark of   SynLube Incorporated
---







This web page was successfully Validated as: "HTML 5 with CSS level 3" and tested in all above browsers