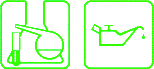 SynLube™ Lube−4−Life® 1−800−SYN−LUBE
2003 HONDA CR-V

49,709 Miles in 864 Days WITHOUT OIL CHANGES !!!
SynLube™ Lube−4−Life® System makes it possible.


Owner: Gordon Goodman, Studio City, California USA
Synner since 6/2/2005 @ 33,771 miles
Following SynLube™ Lube−4−Life® products were used:
Motor Oil SAE 5W-50

used in the 2.4L DOHC engine

MicroGlass™ Motor Oil Filter (J20ns)
TriMag™ Motor Oil Filter Magnet (1 units)
Power Steering Fluid (PSF)
Cool-4-Life™ Synthetic Coolant
MAINTENANCE
49,709 Syn Miles without oil change and only one oil filter change.
Additional Information
SynLube Motor Oil removed @ 83,480 miles on 10/14/2007 prior some required emission related repairs.
---