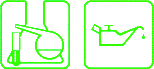 SynLube™ Lube−4−Life® 1−800−SYN−LUBE
1996 Jeep Grand Cherokee 4x4

85,621 Miles in 8 Years WITHOUT OIL CHANGES !!!
SynLube™ Lube−4−Life® System makes it possible.


Owner: Pete Gambino, Jr., Anaheim, California USA
Synner since 1/26/1996 @ 4,000 miles
Following SynLube™ Lube−4−Life® products were used:
Motor Oil SAE 5W-50

used in the 4.0 Liter I-6 cylinder engine

MicroGlas™ Oil Filter (Fwm)
TriMag™ Oil Filter Magnet (2 units)
Automatic Transmission Fluid (ATF-5)
Gear Oil SAE 70W-90 (RE)

used in the Rear and Front Differentials
MAINTENANCE
Oil filter has been changed every two years.
Additional Information
Car Sold @ 89,621 miles on 9/17/2003
---
HOME | Motor Oil | ATF | Gear Oil | PSF | Grease | Coolant | Oil Filters | Magnets | Brake Fluid | Gauges | Tools | Specials | Sale Items