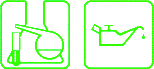 SynLube™ Lube‑4‑Life® 1−800−SYN−LUBE
1987 LINCOLN Mark VII

Over 77,000 Miles in 5,566 Days WITHOUT OIL CHANGES !!!
SynLube™ Lube‑4‑Life® System makes it possible.


Original Owner: Mike Fechisin, Burbank, California USA
2nd Owner: John Hess, Studio City, California USA
Synner since January 1995 @ 35,000 miles
Following SynLube™ Lube‑4‑Life® products were used:
Motor Oil SAE 5W-50

used in the V8 5.0L engine

MicroGlass™ Oil Filter (Fwl)
Bandit 2000 Oil Filter Magnets (2 units)
Cool-4-Life™ Synthetic Coolant
MAINTENANCE
Oil filter has been changed 11/30/2002 @ 78,640 odo miles. .
Additional Information
The vehicle was sold during Estate Sale, after the 2nd owner passed away unexpectedly on April 2, 2010.
The car in a perfect condition was sold with SynLube™ products still installed in it at about 112,000 odo miles.
---
Home | Motor Oil | ATF | Gear Oil | PSF | Grease | Coolant | Oil Filters | Magnets | Brake Fluid | Gauges | Tools | Specials | Sale Items