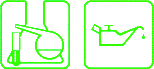 SynLube™ Lube‑4‑Life® 1−800−SYN−LUBE
2004 FORD Focus Wagon SE

95,844 Miles in 2,068 Days WITHOUT OIL CHANGES !!!
SynLube™ Lube‑4‑Life® System makes it possible.


Owner: Karen Schmidt, North Hollywood, California USA
Synner since 8/21/2004 @ 1,507 miles
Following SynLube™ Lube‑4‑Life® products were used:
Motor Oil SAE 5W-50

used in the I-4 2.3L PZEV Engine

MicroGlass™ Motor Oil Filter (Fns)
FilterMag™ Motor Oil Filter Magnet (SS300)
Automatic Transmission Fluid (ATF-5)
Cool-4-Life™ Synthetic Coolant
MAINTENANCE
Oil Filter replaced at 25,000 miles; 50,000 miles and 76,000 miles
Oil Consumption
9,167 miles per Liter of ADD OIL
Additional Information
Vehicle was retired @ 97,345 odo miles on April 20, 2010 when engine (no longer under the 5 year or 100,000 mile FORD powertrain warranty) developed non-lubricant related problems, and estimated repairs by GALPIN FORD exceeded the value of the car.
---
Home | Motor Oil | ATF | Gear Oil | PSF | Grease | Coolant | Oil Filters | Magnets | Brake Fluid | Gauges | Tools | Specials | Sale Items