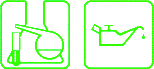 SynLube™ Lube−4−Life® 1−800−SYN−LUBE
2002 HONDA Insight


150,621 Miles in 1,384 Days WITHOUT OIL CHANGES !!!
SynLube™ Lube−4−Life® System makes it possible.


Original owner: Derek Kristof, Pharump, Neavada USA
Synner from 11/14/2001 @ 1,504 miles
Following SynLube™ Lube−4−Life® products were used:
Motor Oil SAE 5W-50

used in the 3-cylinder Hybrid engine

MicroGlass™ Motor Oil Filter (J20ns)
TriMag™ Motor Oil Filter Magnet (1 unit)
Automatic Transmission Fluid (ATF)
Cool-4-Life™ Synthetic Coolant
MAINTENANCE
Oil filter has been changed @ every 24,000 Syn miles.
Oil Consumption
17,209 miles per US Quart of ADD OIL
Additional Information
The most frequent question we get about Hybrid vehicles is about the use of SynLube™ Lube−4−Life® Motor Oil which is SAE 5W-50, however the usual OEM recommendation for those engines is SAE 0W-20 motor oil.
"Will this negatively affect the fuel economy ?"
The real life experience is NO effect or just slightly better than OEM oil.
This particular vehicle did 40 MPG during summer months and 50 MPG in winter, owner attributes this diference to the use of A/C.
The fuel ecomony for the first 1,500 miles on the OEM HONDA motor oil was only 45.7 MPG, and was immediately improved to 48.9 MPG when switched to SynLube™ Lube−4−Life® Motor Oil.
The car was driven daily for 120 miles round trip from Pharump to Las Vegas, NV. The owner was quite disappointed with the fuel economy (he expected the 70 MPG as advertised by HONDA) as he replaced his 1987 YUGO GV that consistently delivered 42 to 45 MPG over the identical daily trip.


Sold @ 152,125 miles on 8/29/2005
---
Home | Motor Oil | ATF | Gear Oil | PSF | Grease | Coolant | Oil Filters | Magnets | Brake Fluid | Gauges | Tools | Specials | Sale Items
Send mail to synlube@synlube.com with questions or comments about this web site.
Copyright © 1996-2013 SynLube Incorporated
Last modified: 2013-02-16
Lube−4−Life®   is a Registered Trademark of   SynLube Incorporated
---







This web page was successfully Validated as: "HTML 5 with CSS level 3" and tested in all above browsers