1988 Lamborghini Countach 5000

64,909 Miles in 7,114 Days WITHOUT OIL CHANGES !!!
SynLube™ Lube−4−Life® System makes it possible.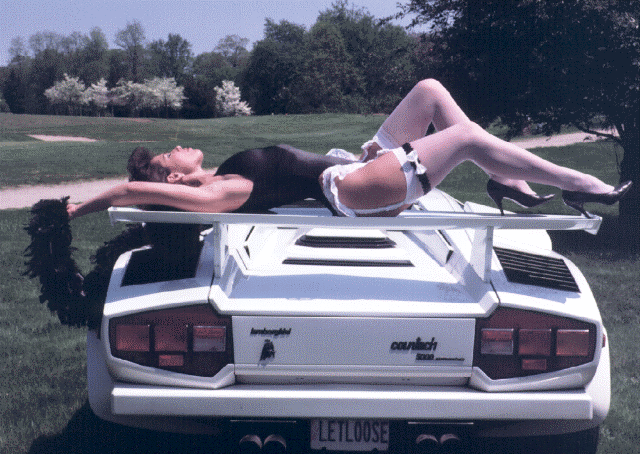 "Loosee" the model was also the owner of this 1988 Lamborghini Countach 5000
Synner since June 5, 1990 @ 874 miles
Following SynLube™ Lube−4−Life® products were used:
Motor Oil SAE 5W-50

used in the Quattrovalvole engine

Cool-4-Life™ Synthetic Coolant
Over the years as the vehicle was periodically serviced eventually other SynLube™ Products were also installed:
Gear Oil (MT)
Stop-4-Life™ DOT 5.1 Long Life Brake Fluid
Stop-4-Life™ DOT 5.1 Long Life Brake Fluid

used in the Hydraulic Clutch Servo System

Lube-4-Life™ Grease LNGI #00

used in the drive shafts CV joints
MAINTENANCE
Oil filter has been changed about every 2 to 3 years.
Oil Consumption
Estimated @ 4,000 miles per Liter of ADD OIL
Additional Information
In June of 1990 at Las Vegas Auto Auction "Loosee" just for a joke bided on this car that had only 723 miles.
Since there was "No Reserve" she did get her dream car at a bargain price.
The car was mostly garaged over first 9 years, but driven every now and then.
Vehicle was sold @ 65,783 Miles on 11/26/2009 after the owner suddenly died.
No fluids were changed since their initial installation.
Current whereabouts of the car are not known, except that the buyer was reportedly from Texas.

---

"Loosee" was a devoted Synner since 1977 !
She openly admitted that the only reason she was able to afford this car is because her previous automotive jewel - 1974 DATSUN B210 - ran dependably on SynLube™ for over 13 years and 210,000 miles without any lubricant related problems -- thus, saving her: "a ton of money".
---