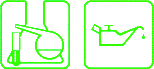 SynLube™ Lube−4−Life® 1−800−SYN−LUBE
1990 FORD Taurus


22,669 Miles in 1781 Days WITHOUT OIL CHANGES !!!
SynLube™ Lube−4−Life® System makes it possible.


Owner: Maida Loewen, Dominquez, California USA
Synner since 2/3/2002 @ 66,547 miles
Following SynLube™ Lube−4−Life® products were used:
Motor Oil SAE 5W-50

used in the 3 Liter V-6 engine

MicroGlass™ Motor Oil Filter (Fnl)
TriMag™ Motor Oil Filter Magnet
Power Steering Fluid (PSF)
MAINTENANCE
Oil filter has been changed every 25,000 miles.
Additional Information
At 89,216 miles on 12/20/2006
Vehicle was donated to charity and replaced with 2006 FORD Focus.
---
Home | Motor Oil | ATF | Gear Oil | PSF | Grease | Coolant | Oil Filters | Magnets | Brake Fluid | Gauges | Tools | Specials | Sale Items