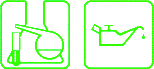 SynLube™ Lube−4−Life® 1−800−SYN−LUBE
1995 KIA Sportage 4x4

99,757 Miles in 3 years WITHOUT OIL CHANGES !!!
SynLube™ Lube−4−Life® System makes it possible.


Leased to: Ginger Reeves, Las Vegas, Nevada USA
Synner from March 1997 to April 2000
Following SynLube™ Lube−4−Life® products were used:
Motor Oil SAE 5W-50

used in the 2.0 Liter I-4 engine

MicroGlass™ Motor Oil Filter (J20ns)
TriMag™ Motor Oil Filter Magnet
Gear Oil SAE 70W-90 (MT)

used in the 5-speed manual transmission

Gear Oil SAE 75W-90 (RE)

used in the Front and Rear Differentials

Cool-4-Life™ Synthetic Coolant
MAINTENANCE
Oil filter has been changed changed at 30,000 and 75,000 odo miles.
Additional Information
This leased vehicle has been driven total of 105,782 odo miles, all products listed above were installed at 6,025 odo miles after this "used" SUV was leased for 36 months in March 1997.
---
Home | Motor Oil | ATF | Gear Oil | PSF | Grease | Coolant | Oil Filters | Magnets | Brake Fluid | Gauges | Tools | Specials | Sale Items
Send mail to synlube@synlube.com with questions or comments about this web site.
Copyright © 1996-2013 SynLube Incorporated
Last modified: 2013-02-16
Lube−4−Life®   is a Registered Trademark of   SynLube Incorporated
---







This web page was successfully Validated as: "HTML 5 with CSS level 3" and tested in all above browsers