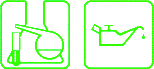 SynLube™ Lube−4−Life® 1−800−SYN−LUBE
1988 Mercury Cougar LS


43,765 Syn Miles in 3,999 Days without OIL CHANGE !!!
SynLube™ Lube−4−Life® System makes it possible.


owner: Sharon Selep, Las Vegas, Nevada USA
Synner since September 12, 1994 @ 36,000 miles
Following SynLube™ Lube−4−Life® products were initially installed:
Motor Oil SAE 5W-50
MicroGlas™ Oil Filter (Fnl)
Bandit2000™ Oil Filter Magnets (2 units)
Automatic Transmission Fluid (ATF 3)
RE Gear Oil SAE 70W-90 used in the rear differential
Cool-4-Life™ 50/50 Pre-Mix Coolant
Rad-Cap™ Radiator Cap with Magnesium Anode
Update: Owner Died on August 24, 2005 and vehicle was donated to charity with 79,765 miles.
Motor Oil Consumption:
One Liter of ADD OIL per 5,109 miles
---
Maintenance:
Oil Filter changed on 1/26/1998 @ 50,000 miles
Automatic Transmission Fluid partilly replaced (5 Liters) on 10/20/1999 @ 58,395 miles
Oil Filter changed on 12/21/2003 @ 71,765 miles
ADD OIL was added as needed whenever "low" on dipstick
---
SUMMARY
43,765 miles in 3,999 days without Oil Change !
Home | Motor Oil | ATF | Gear Oil | PSF | Grease | Coolant | Oil Filters | Magnets | Brake Fluid | Gauges | Tools | Specials | Sale Items