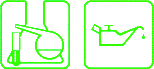 SynLube™ Lube−4−Life® 1−800−SYN−LUBE
1977 LANCIA Beta Spider 2000


198,628 Kilometers in 12,468 Days WITH TWO OIL CHANGES !!!
SynLube™ Lube−4−Life® System makes it possible.


Owner: Kent Wade, Waco, Texas USA
Synner since 5/16/1979 @ 12,750 odo kilometers
Following SynLube™ Lube−4−Life® products were used:
Motor Oil SAE 5W-50

used in the 2 Liter DOHC engine

MicroGlass™ Oil Filter (Fws)
TriMag™ Oil Filter Magnet (2 units)
Gear Oil SAE 70W-90 MT
Cool-4-Life™ Synthetic Coolant
Stop-4-Life™ DOT 5.1 Long Life Brake Fluid
MAINTENANCE
Oil filter has been changed every year.
Motor Oil has been changed only twice
in 1985 at about 50,000 engine miles on SynLube Motor Oil
in 2001 at about 100,000 engine miles on SynLube Motor Oil.
The Gear Oil was changed at about 75,000 transmission miles on the SynLube MT.
Additional Information
This car was imported to USA in 1978 by US Army officer who was stationed in France, where he bought the car new in December 1976.
His son owned the car since 1996. It had over original 211,000 Km ( 131,000 miles) when it was sold in July 2013.
The car had originally only SynLube™ Motor Oil installed, but in 1998 when the transmission had to be rebuilt due to corroded bearings owner also installed SynLube™ Lube-4-Life® MT Gear Oil after the overhaul.
In 1999 the entire cooling system had to be replaced (radiator, heater core, thermostat, heater valve and all hoses) due to corrosion and deterioration caused by conventional Prestone Coolant, that was religiously changed every spring. After his: "do not even ask how much that costed!" experience, the owner installed SynLube™ Cool-4-Life™ Synthetic Coolant as well.
In 2010 the car was severely damaged in accident and was finally sold "as-is" in July 2013 @ 211,378 odo kilometers.
---
Home | Motor Oil | ATF | Gear Oil | PSF | Grease | Coolant | Oil Filters | Magnets | Brake Fluid | Gauges | Tools | Specials | Sale Items