1984 YUGO 45

Synner since: April 1, 1984 @ 600 odo kilometers
---
The first three YUGO's were introduced in the USA in May 1984 at the Los Angeles AUTO EXPO 84.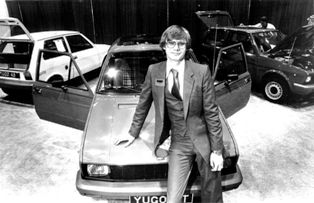 PHOTO CREDIT: Los Angeles Times Photo by Lori Shepler © 1984
The vehicles were imported and modified for the US market by YugoCars, Inc. of Sun Valley, California USA.
More interesting than the low Retail price of only US$4,500, was a first ever "10 year or 100,000 mile warranty" that included all scheduled maintenance FREE TO THE VEHICLE OWNER !
This was possible due to SynLube™. Essentially only topping of the engine motor oil with ADD OIL to compensate for normal oil consumption was needed. There were no oil changes scheduled over the 10 year 100,000 mile interval. This was possible because SynLube™ Lubricants were used in the engine and in the 4-speed transaxle.
What was amazing is, that after accumulation of 92,000 miles, one test car (metallic blue shown in above photo) that was equipped with SynLube™ Lubricants had exhaust emissions 20% lower than a new car with only 1,500 miles on Conventional Petroleum Motor Oil (CASTROL GTX 20W-50).
Two other test cars that were equipped with Conventional Petroleum Motor Oil (one with ZASTAVA OEM oil, the other with CASTROL GTX 20W-50) and with 5,000 mile oil changes, have both failed the California Exhaust emission test at 32,000 miles and 36,000 miles respectively.
The increased emissions were attributed to excessive engine wear due to use of low quality metals in the engine production. This was a proof that SynLube™ Lubricants can make even a poor quality materials last at least three times longer than normal.
Emission testing was done by Olson Laboratories in Orange County, California USA.
Engine disassembly and inspection was done by M.I.K. Automotive, Inc. in North Hollywood, California USA.
In August of 1984 the marketing rights for the YUGO were sold to IAI (International Automobile Importers) of New Jersey operated by Malcolm Bricklin.
He later formed Yugo of America, Inc. a company which marketed the YUGO in the USA until 1992.
The Bricklin organization decided that to market a car in the USA with "unconventional oil" in the engine was not a good idea, and that Fuel Injection was too luxurious for an economy car. They reduced the retail base price to US$3,995 and reduced the warranty to the 3 year or 36,000 miles, a durability that was expected from the YUGO if it was operated on conventional petroleum motor oil as was documented by Olson Labs.
The YUGO 45 as introduced by YugoCars had 817cc 4-cylinder OHV engine with BOSCH L EFI and BOSCH electronic Ignition with BOSCH Platinum Spark Plugs and ZEUNA Three-way Catalytic Converter so that 87 octane Unleaded Gasoline could be utilized for low exhaust emissions.
At the time of YUGO 45 introduction into the United States the high compression 817 cc (49.8 cid) engine was used in order to beat US emissions regulations at that time, which applied only to engines equal to or larger than 50 cubic inches. Compression Ratio was raised from 8.8:1 to 9.2:1.
The same BOSCH EFI system was utilized by FIAT and later BERTONE from 1980 to 1989 and was able to meet stringent California emissions through 1992 model year.
A 4-speed manual transaxle was used. This allowed a top speed of over 75 MPH and delivered fuel economy of 45 Miles per Gallon and engine delivered 45 HP, hence the marketing name of YUGO 45.
The vehicles that were eventually sold by Yugo of America had 1.1 and 1.3 Liter OHC engines with timing belt, they only retained the BOSCH electronic ignition.
The very complex emission system (which was cheaper than EFI) used a carburetor, a two way Catalyst that required an Air Pump and EGR; it was one of major problems that caused the vehicles to get a poor reputation due to poor drivability, inability to meet emission standards when used, etc.
Making the initial "indestructible" maintenance free car $505 cheaper, effectively killed all prospects of YUGO to become another VW Bug or FORD Model T as the initial promotional advertising claimed.
Yugo America realized its "fatal" mistake by 1990 when, EFI version of the YUGO GVX was introduced, but it was too late to save YUGO in the USA. The prospects of recalling over 126,000 vehicles that were sold in the USA by EPA, due to failure to meet exhaust emissions effectively caused Yugo America to close its doors for good in 1992.
---
Following Products were installed in the test vehicle:
SynLube™ "Original Syn!" Motor Oil SAE 5W-50

used in the 817cc OHV engine

SynLube™ SAE 70W-90 Gear Oil

used in the 4 Speed FWD transaxle

SynLube™ Grease

used in the CV Joints
used on the shift linkage Joints
used in the speedometer cable
used in the clutch cable
---
Vehicle Data
Engine

817cc 4-cylinder OHV - 45 bhp

Transmission

4 speed fully synchronized FWD transaxle
---
Send E-mail to synlube@aol.com with questions or comments about this web site.
Copyright © 1996-2014 SynLube Incorporated
Web Master: MIROX Corporation
Last Updated:
Lube−4−Life® is a Registered Trademark of SynLube Incorporated








This web page was successfully Validated as: "HTML 5 with CSS 3" and tested in all above browsers