Home | What's New | Contact Us | How to Order | PRICE LIST | Sitemap | Publications | FAQ | LINKS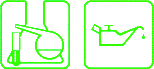 SynLube™ Lube−4−Life® 1−800−SYN−LUBE
MARS
The Mars Pathfinder mission was widely proclaimed as "flawless" in the early days after its July 4th, 1997 landing on the Martian surface. Successes included its unconventional "landing" -- bouncing onto the Martian surface surrounded by airbags, deploying the Sojourner Mars Rover, and gathering and transmitting voluminous data back to Earth, including the panoramic pictures that were such a hit on the Web.

JPL Mars Rover "Sojourner" on Mars.
Each of the six wheels contains one miniature electric motor.
All of the motor bearings are lubricated with 1/2 drop of SynLube™.
Total of 12 drops of SynLube™ are on Mars !

Mars Rover "Sojourner" at JPL.
---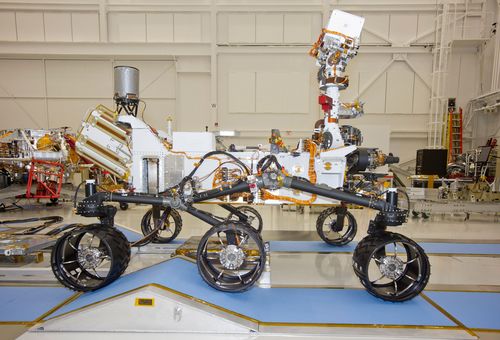 Mars Rover "Curiosity" at JPL.
This photograph of the NASA Mars Science Laboratory rover, Curiosity, was taken during mobility testing on June 3, 2011. The location is inside the Spacecraft Assembly Facility at NASA's Jet Propulsion Laboratory, Pasadena, California USA.

Curiosity is about twice as long and more than five times as heavy as any previous Mars rover.
Its 10 science instruments include two for ingesting and analyzing samples of powdered rock delivered by the rover's robotic arm.
During a prime mission lasting one Martian year -- nearly two Earth years.
Researchers will use the tools on the rover to study whether the landing region has had environmental conditions favorable for supporting microbial life and favorable for preserving clues about whether life existed.

Curiosity, was shipped to NASA's Kennedy Space Center in Florida on June 23, 2011.
Launch: Nov. 26, 2011
Mars Landing: Aug. 6, 2012 (EDT)
The rover landed at the foot of a layered mountain inside the planet's Gale Crater.
JPL, a division of the California Institute of Technology in Pasadena, manages the Mars Science Laboratory mission for the NASA Science Mission Directorate, Washington.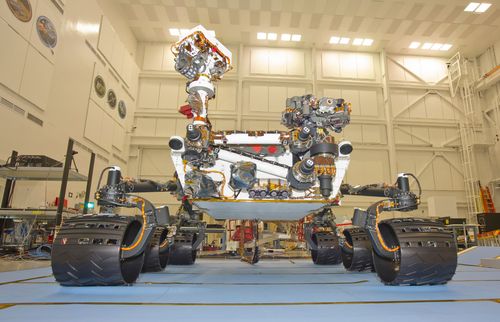 Image Credit: NASA/JPL-Caltech
Each of the six wheels contains one electric motor. All motor bearings are lubricated with SynLube™.

The lubricant is also used in 7 other locations on the Rover.
Total of 260 cc of SynLube™ are used in this Mars Rover !
---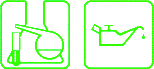 ---
Home | UP | Motor Oil | ATF | Gear Oil | PSF | Grease | Coolant | Oil Filters | Magnets | Brake Fluid | Gauges | Tools | Specials | Sale Items
Send E-mail to synlube@synlube.com with questions or comments about this web site.
Copyright © 1996-2013 SynLube Incorporated
Last modified: 2013-04-26
Lube−4−Life® is a Registered Trademark of SynLube Incorporated







This web page was successfully Validated as: "HTML 5 with CSS level 3" and tested in all above browsers