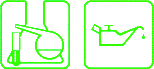 SynLube™ Lube−4−Life®
1−800−SYN−LUBE
" 100% Synthetic Super lubricants, since 1969 "
SynLube Warranty
---
SynLube™ Lube−4−Life®
Limited Lubrication Warranty Program
FAQ
(Frequently asked Questions)
---
Many of our potential customers are concerned about their "warranty" being affected by the use of SynLube™ Lube−4−Life® products in their vehicles.
The concern usually stems from not reading the actual Manufacturer's Warranty and not understanding what it actually warrants.
Results from several surveys (R.L. Polk; J.D. Power; AutoWeek) suggest that only about 4 out of 1,000 vehicle owners take time to read their "Vehicle Owner's Manual" and even fewer take the time to understand the Warranty, which is usually detailed in separate booklet.
Further only few customers know that there is a Federally mandated "Warranty-Act" which affects all consumer products as well as motor vehicles. Details of the Warranty Act can be found on www.ftc.gov
In simple terms there are following issues:
What is actually warranted?


Almost without exception ALL warranties affecting motor vehicles apply ONLY to defects in manufacture, either in workmanship or in materials.
NO vehicle sold in the USA is warranted for any DURABILITY, LONGEVITY or SUITABILITY for any particular service. A separate "Emissions Warranty" covers specific items that effect evaporative and/or tail pipe exhaust emissions.



Recommended Maintenance


By Federal Law no manufacturer can specify any maintenance or any product(s) that must be used in order to keep any warranty valid, unless the manufacturer obtains a specific waiver from FTC.
Currently NO vehicle manufacturer has ever obtained such a waiver.
The Law specifically states that if manufacturer bases any refusals for warranty repairs on lack of maintenance or the use of specific service parts, that these must be offered to the consumer FREE of any CHARGES.
The CALIFORNIA Emission Warranty specifically states that no manufacturer can deny repairs under the "Emissions Warranty" even if NO recommended maintenance was ever performed.



Extended Warranties


These are incorrectly called Warranties, since ANY warranty by a Federal Law must be FREE of ANY CHARGES to the consumer. "Extended Warranties", which are SOLD as an option for additional cost are legally "Service Contract" or "Repair Insurance".
If the "Extended Warranty" is a "Service Contract", it is perfectly legal for the underwriter to require certain specific actions (such as frequent and specific maintenance) to be taken, to keep the Service Contract valid.
If it is "Repair Insurance" it is usually accompanied by a "deductible" and the contract will pay for cost of any of the covered repairs that exceed the deductible amount(s), irrespective if any maintenance that was or was not performed.

---
The facts are:
No vehicle or engine manufacturer has since 1969 denied ANY warranty repairs because

SynLube™

Lube−4−Life® was used in the vehicle or engine.


All

SynLube™

Lube−4−Life® products exceed by a great margin the MINIMUM Warranty Requirements for API, JASO, ACEA, CCMC and ILSAC specifications for lubricants.


No

SynLube™

Lube−4−Life® lubricated component has ever failed on any vehicle during its OEM Warranty period.
---
Limited Lubrication Warranty
(for NEW Vehicles)
Click the Link Button below to go to the FREE 150,000 mile or 15 year New Car Limited Lubrication Warranty:
Limited Lubrication Warranty
(for USED Vehicles)
Click the Link Button below to go to the FREE 100,000 mile or 10 year Used Car Limited Lubrication Warranty:
Limited Lubrication Warranty
(for NEW Commercial Vehicles)
Click the Link Button below to go to the FREE 100,000 mile or 10 year Commercial Vehicle Limited Lubrication Warranty:
---