1989 YUGO GVX

About 84,313 Miles in 15 Years WITHOUT OIL CHANGES !!!
SynLube™ Lube−4−Life® System makes it possible.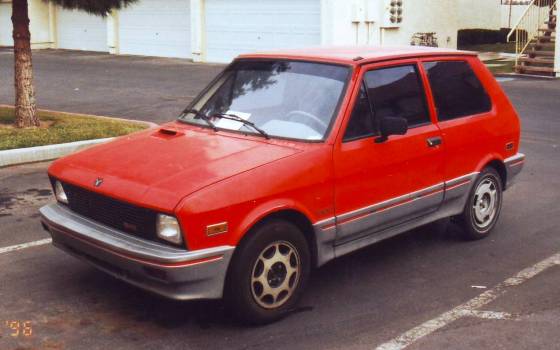 owner: Judy Anderlie, Las Vegas, Nevada USA
Synner from August 16, 1995 @ 38,687 miles
Following SynLube™ Lube−4−Life® products were used:
Motor Oil SAE 5W-50

used in the I-4 1.3L engine

MicroGlass™ Oil Filter (Fns)
TriMag™ Oil Filter Magnet
Gear Oil SAE 70W-90 (MT)

used in the 5-speed FWD Transaxle

Cool-4-Life™ Synthetic Coolant
MAINTENANCE
Oil filter has been changed annually.
Oil Consumption
Estimated @ 13,000 miles per Liter of ADD OIL
Additional Information
The owner bought this car at about 38,000 odo miles in August 1995 and it has been driven daily. On May 19, 2011 it has been loaned to a fried, and she subsequently managed to cause multi car collision on I-15. Judy, the owner of the car, apparently incorrectly assumed that her friend knew how to drive a manual shift car, but that was not the case. At that time the car had about 123,000 odo miles. After Judy saw the extend of the vehicle damage when recovering her belongings, she decided not to pay the fees that were required by the Police Impound for the towing and storage.
---