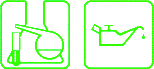 SynLube™ Lube−4−Life® 1−800−SYN−LUBE
1989 MORETTI TURBO UNO

About 129,400 Miles in 6 Years WITH ONLY ONE OIL CHANGE !!!
SynLube™ Lube−4−Life® System makes it possible.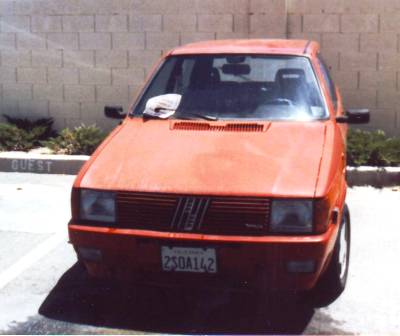 Owner: S. A. Tabascio, Burbank, California USA
Synner from 1989 to 1995
Following SynLube™ "Original Syn!" products were used:
Motor Oil SAE 5W-50

used in the FIAT 1.3L SOHC Turbo engine

TwinMag™ Oil Filter Magnet (2 units)
Gear Oil SAE 70W-90

used in the 5 speed transaxle
MAINTENANCE
Motor Oil Filter was changed about every 30,000 miles
Motor Oil was changed at about 90,000 odo miles in April 1993.
Additional Information
This car was one of only four MORETTI TURBO UNO cars sold and equipped with

SynLube™

by M.I.K. Automotive, Inc. of North Hollywood, California USA in 1989. This particular car was retired in 1995 at about 130,000 odo miles due to fire damage.
---
Home | Motor Oil | ATF | Gear Oil | PSF | Grease | Coolant | Oil Filters | Magnets | Brake Fluid | Gauges | Tools | Specials | Sale Items
Send mail to synlube@synlube.com with questions or comments about this web site.
Copyright © 1996-2013 SynLube Incorporated
Last modified: 2013-08-18
Lube−4−Life®   is a Registered Trademark of   SynLube Incorporated







This web page was successfully Validated as: "HTML 5 with CSS level 3" and tested in all above browsers