2002 HYUNDAI Accent

22,647 Miles in 1,060 Days WITHOUT OIL CHANGES !!!
SynLube™ Lube−4−Life® System makes it possible.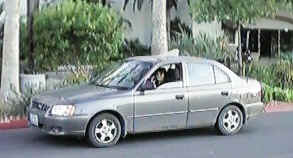 Ex-owner: Maria Calimano, Las Vegas, Nevada USA
synner since 18,353 odo miles on December 12, 2004
Following SynLube™ Lube−4−Life® products were used:
Motor Oil SAE 5W-50

in the 4-cylinder 1.6L engine

MicroGlass™ Oil Filter (J20ns)
TriMag™ Oil Filter Magnet
Cool-4-Life™ Synthetic Coolant
MAINTENANCE
Oil Filter changed on 10/7/2005 @ 27,705 odo miles
ADD OIL was added as needed whenever "low" on dipstick
Additional Information
The vehicle was given to family member when Maria leased FORD Mustang in 2007
At that time the car had over 41,000 odo miles.
You can contact the owner by e-mail: mcali2112@yahoo.com
---