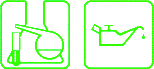 SynLube™ Lube−4−Life® 1−800−SYN−LUBE
1996 FORD Mustang Convertible V-6

Over 13,000 Miles in 2 Years WITHOUT OIL CHANGES !!!
SynLube™ Lube−4−Life® System makes it possible.


Former Owner: Debra Shuffleton, Las Vegas Nevada USA
Synner since: August 1999 @ 36,943 miles to June 2001
Following SynLube™ Lube−4−Life® products were used:
Motor Oil SAE 5W-50
MicroGlass™ Motor Oil Filter (M22wm)
TriMag™ Motor Oil Filter Magnet (1 units)
Cool-4-Life™ Synthetic Coolant
MAINTENANCE
NONE
Additional Information
Our customers are quite often concerned that the use of SynLube™ products will void their OEM warranty, but that is not the case.
This vehicle is a proof that FORD does not mind the use of SynLube™ and will still fully warranty the vehicles for any manufacturing and excess wear problems.
This vehicle was fixed three times by two different FORD dealers for:
Coolant leak (Head Gasket Problem, poor material quality)
Water Pump failure (Poor Pulley alignment, poor assembly)
Motor Oil leak (Defective Oil Seal improperly installed during Engine Assembly)
Even with the FREE FORD Extended Powertrain Warranty, the owner lost a confidence in the vehicle.
This vehicle has been sold with over 50,000 miles on the odo as soon as the 5 year or 50,000 mile Warranty Expired.
---
Home | Motor Oil | ATF | Gear Oil | PSF | Grease | Coolant | Oil Filters | Magnets | Brake Fluid | Gauges | Tools | Specials | Sale Items
Send mail to synlube@synlube.com with questions or comments about this web site.
Copyright © 1996-2013 SynLube Incorporated
Last modified: 2013-02-17
Lube−4−Life®   is a Registered Trademark of   SynLube Incorporated
---







This web page was successfully Validated as: "HTML 5 with CSS level 3" and tested in all above browsers