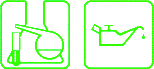 SynLube™ Lube−4−Life® 1−800−SYN−LUBE
1996 FORD Ranger

Over 20,000 Miles in 2 Years WITHOUT OIL CHANGES !!!
SynLube™ Lube−4−Life® System makes it possible.


Star Irvine in her "leased" FORD
Synner from June 1996 to August 1998.
Following SynLube™ Lube−4−Life® products were used:
Motor Oil SAE 5W-50
MicroGlass™ Motor Oil Filter (Fnl)
TriMag™ Motor Oil Filter Magnet (1 units)
MAINTENANCE
NONE
Additional Information
Does the use of SynLube™ products make sense in a "leased" vehicle with "full maintenance"?
This vehicle is proof that it does!
Star Irvine had SynLube™ Lube-4-Life™ Motor Oil and MicroGlass Oil Filter installed in her leased 1996 FORD Ranger XLT Light Truck @ 5,000 miles and cancelled her FORD service contract, which saved her over $400.00
When in 1998 her leased vehicle with over 25,000 miles was ready to be turned in the SynLube™ Lube-4-Life™ Motor Oil was drained and replaced with Conventional Petroleum Motor Oil.
(The SynLube™ MicroGlass™ Oil Filter was not replaced)
The drained "slightly used" (only 20,000 miles) SynLube™ Lube-4-Life™ Motor Oil did not go to waste however, she had it installed in her "Classic" 1962 FORD Ranchero which has been running on it for another five years.
You can contact the owner by e-mail: starirvine@sbcglobal.com
Home | Motor Oil | ATF | Gear Oil | PSF | Grease | Coolant | Oil Filters | Magnets | Brake Fluid | Gauges | Tools | Specials | Sale Items
Send mail to synlube@aol.com with questions or comments about this web site.
Copyright © 1996-2014 SynLube Incorporated
Web Master: MIROX Corporation
Last Updated:
Lube−4−Life®   is a Registered Trademark of   SynLube Incorporated
---







This web page was successfully Validated as: "HTML 5 with CSS level 3" and tested in all above browsers