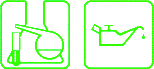 SynLube™ Lube−4−Life® 1−800−SYN−LUBE
1982 HONDA CITY

Over 136,000 Miles in 10 Years WITHOUT OIL CHANGES !!!
SynLube™ Lube−4−Life® System makes it possible.


Formerly owned by Kathy "KC" Sheahen, Redondo Beach, California USA
Synner from June 1982 @ 1,275 miles
Following SynLube™ Lube−4−Life® products were used:
Motor Oil SAE 5W-50

used in the I-4 1.2L engine

MicroGlas™ Oil Filter (J20ns)
TriMag™ Oil Filter Magnet (1 unit)
Gear Oil (MT) SAE 70W-90

used in the 5-speed FWD transaxle
Update: Retired at about @ 136,000 Miles in May 1992
Customer Statement
This vehicle was a "daily driver" from 1982 to 1992 and over 136,000 miles (220,000 Km) were accumulated without an oil change.
Eventually this vehicle, which was the ONLY "Right Hand Drive" HONDA CITY that was imported to the USA, had too many things wrong with it (mechanically) to be cost effective to fix.
When it was sold to a car collector the engine still run great and strong, but things like clutch, brakes, suspension, shock absorbers, window regulators and door locks were all worn out and needed replacement...
---
Home | Motor Oil | ATF | Gear Oil | PSF | Grease | Coolant | Oil Filters | Magnets | Brake Fluid | Gauges | Tools | Specials | Sale Items
Send mail to synlube@synlube.com with questions or comments about this web site.
Copyright © 1996-2013 SynLube Incorporated
Last modified: 2013-02-14
Lube−4−Life®   is a Registered Trademark of   SynLube Incorporated
---







This web page was successfully Validated as: "HTML 5 with CSS level 3" and tested in all above browsers