1977 Chevrolet Caprice

About 110,000 Miles in 9 Years WITH ONE OIL CHANGE !!!
SynLube™ Lube−4−Life® System makes it possible.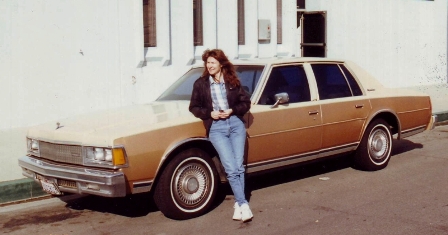 Formerly owned by Marcy Onderik, Las Vegas, Nevada USA
Synner from June 1991 to November 2000
Following SynLube™ Lube−4−Life® products were used:
Motor Oil SAE 5W-50

used in the V8 350 engine

MicroGlas™ Oil Filter (GLwl)
TriMag™ Oil Filter Magnet (2 units)
Automatic Transmission Fluid (ATF)
Gear Oil SAE 70W-90
Maintenance
Motor Oil filter was changed 3 times @ 100,000; 134,000 and 160,000 odo miles
Motor Oil was changed only once @ 160,000 odo miles
Additional Information
In June of 1991 against the advice of her then "car mechanic" Marcy installed above listed SynLube Products.
She was told by the mechanic that the car which then had 88,657 original miles will definitely not last very much longer and will need serious and expensive overhaul.
She had the products installed in order to prolong the car's agony, since she could not afford the "estimated" repairs at that time.
Since the speedometer cable broke twice and she did not fix it immediately the car whose odometer indicated 186,000 miles for few years was estimated to have actually well over 200,000 on it.
The car still ran very well when in November 2000 Marcy who lived in Las Vegas, Nevada donated it to local charity, needles to say she never went back to her "mechanic".
---