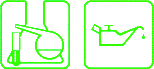 SynLube™ Lube−4−Life® 1−800−SYN−LUBE
1985 BERTONE X1/9
WITH ONLY ONE OIL CHANGE !!!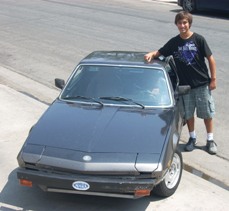 3rd Owner: Kevin Dorn, San Jose, California USA
Synned since: February 14, 1985 @ 1,115 odo miles
Following SynLube™ products are used:
Motor Oil SAE 5W-50 (GTM*)

used in the I-4 1.5L engine

Gear Oil SAE 70W-90 (GTM*)

used in the 5 speed transaxle

Cool-4-Life™ Synthetic Coolant

used in the Cooling System
was installed in August 1992 @ 35,000 miles

Stop-4-Life™ Synthetic Brake Fluid DOT 5.1 Long Life

was installed in April 1996 @ 43,683 miles
Update: 99,876 odo miles on February 3, 2013
Motor Oil Consumption:
One Liter of ADD OIL per about 9,000 miles
---
Maintenance:
Oil Filter has been changed every two years
Motor Oil has been chagned @ 93,000 odo miles on August 8, 2009
ADD OIL was added as needed whenever "low" on dipstick
---
Note:
From 1983 to 1989 all BERTONE X1/9 sports cars, that were delivered through M.I.K. Automotive Inc. in North Hollywood, CA were equipped with SynLube™ made ITAL GTM* Motor Oil and ITAL GTM* Gear Oil.
This car has over the years been through 3 owners (Kim Kane, Marianna Petroff and Kevin Dorn).
This car is currntly part of the SynLube Car Collection
Home | Motor Oil | ATF | Gear Oil | PSF | Grease | Coolant | Oil Filters | Magnets | Brake Fluid | Gauges | Tools | Specials | Sale Items
Send mail to synlube@synlube.com with questions or comments about this web site.
Copyright © 1996-2013 SynLube Incorporated
Last modified: 2013-04-10
Lube−4−Life®   is a Registered Trademark of   SynLube Incorporated







This web page was successfully Validated as: "HTML 5 with CSS level 3" and tested in all above browsers