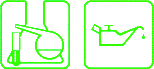 SynLube™ Lube−4−Life® 1−800−SYN−LUBE
2001 Mercedes-Benz A Class


Over 110,500 kilometers in 11 Years WITHOUT OIL CHANGES !!!
SynLube™ Lube−4−Life® System makes it possible.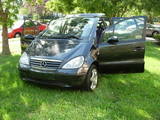 Owner: Hanzel Molek, New York NY USA
Synner since September 3, 2001 @ 3,000 kilometers
Following SynLube™ Lube−4−Life® products were used:
Motor Oil SAE 5W-50
Cool-4-Life™ Synthetic Coolant
MAINTENANCE
OEM Cartridge Oil filter has been changed annually.
Additional Information
The car owned by Hanzel Molek (2nd owner) was driven from Mexico where it was originally purchased by a family relative, who equipped it with SynLube when visiting in Los Angeles in September 2001.
The car had Diesel turbo engine so it was possible to get it registered in New York in late 2001.
Unfortunately the car which was kept in excellent condition was damaged beyond economic repair in Storm Sandy in Connecticut in October 2012.
At that time it had reportedly over 113,000 km on the odometer.
---
Home | Motor Oil | ATF | Gear Oil | PSF | Grease | Coolant | Oil Filters | Magnets | Brake Fluid | Gauges | Tools | Specials | Sale Items
Send mail to synlube@synlube.com with questions or comments about this web site.
Copyright © 1996-2013 SynLube Incorporated
Last modified: 2013-02-23
Lube−4−Life®   is a Registered Trademark of   SynLube Incorporated
---







This web page was successfully Validated as: "HTML 5 with CSS level 3" and tested in all above browsers