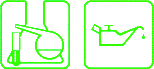 SynLube™ Lube−4−Life® 1−800−SYN−LUBE
2005 OKA CITY EFI
NO OIL CHANGES !!!
owner: Miro Kefurt, Las Vegas, Nevada USA
Synner since 1/26/2004 @ 835 miles
Following SynLube™ Lube−4−Life® products are used:
Motor Oil SAE 5W-50

used in the 2-cylinder 750cc engine

MicroGlass™ Motor Oil Filter (Fwm)
TriMag™ Motor Oil Filter Magnet (2 units)
Gear Oil SAE 70W-90 (MT)

used in the 4-speeed FWD transaxle

Cool-4-Life™ Antifreeze-Coolant
Stop-4-Life™ DOT 5.1 Brake Fluid
Update:
109,175 miles on March 2, 2013 when car was retired from daily service and was donated to SynLube Car Collection.
Maintenance:
Motor Oil Filter

changed on 4/22/2006 @ 25,006 odo miles
changed on 8/3/2008 @ 51,047 odo miles
changed on 9/27/2010 @ 76,005 odo miles
changed on 11/17/2012 @ 100,009 odo miles
Motor Oil Consumption:
One US Quart of ADD OIL per 39,203 miles
You can contact the owner by e-mail: mirokefurt@aol.com
---
HOME | Motor Oil | ATF | Gear Oil | PSF | Grease | Coolant | Oil Filters | Magnets | Brake Fluid | Gauges | Tools | Specials | Sale Items