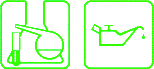 SynLube™ Lube−4−Life® 1−800−SYN−LUBE
1984 HONDA City Turbo II


115,529 Kilometers in 27 Years WITH ONLY ONE OIL CHANGE !!!
SynLube™ Lube−4−Life® System makes it possible.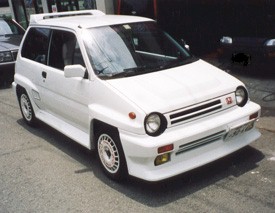 Original Owner: Mr. Hiosshi, North Hollywood, California USA
Last Owner: Geoff Stanley, Knoxville, Tennessee USA
Synner from 2/26/1984 @ 600 km
Following SynLube™ Lube−4−Life® products were used:
Motor Oil SAE 5W-50

used in the Turbo 4-cylinder engine

MicroGlass™ Oil Filter (J20ns)
TriMag™ Oil Filter Magnet (2 units)
Gear Oil SAE 70W-90 (MT)

used in the 5-speed transmission

Cool-4-Life™ Synthetic Coolant
Stop-4-Life™ DOT 5.1 Long Life Brake Fluid
MAINTENANCE
Oil filter has been changed every year.
Motor Oil has been changed in 1998 at about 50,000 odo kilometers.
Additional Information
The SynLube™ GTM® Motor Oil was replaced after 14 years with "Lube-4-Life®" version of SynLube™ Motor Oil
The car was retired 3/6/2011 @ 116,129 odo kilometers after the car suffered fire damage caused by fuel leak due to deteriorated fuel injection components.
When the fire crew arrived about 15 minutes after the fire started, there was not much left of the entire car except for the charred body shell.
This vehicle was Japanese Right Hand Drive model, imported to USA in 1984 by M.I.K. Automotive Inc. of North Hollywood, California USA.
---
Home | Motor Oil | ATF | Gear Oil | PSF | Grease | Coolant | Oil Filters | Magnets | Brake Fluid | Gauges | Tools | Specials | Sale Items
Send mail to synlube@synlube.com with questions or comments about this web site.
Copyright © 1996-2013 SynLube Incorporated
Last modified: 2013-07-03
Lube−4−Life®   is a Registered Trademark of   SynLube Incorporated
---







This web page was successfully Validated as: "HTML 5 with CSS level 3" and tested in all above browsers