Home | What's New | Contact Us | How to Order | PRICE LIST | Sitemap | Publications | LINKS

SynLube™ Lube−4−Life®
1985 Maserati Quattroporte
NO OIL CHANGES !!!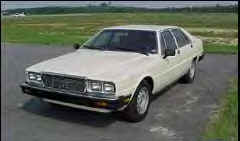 Original Owner: Steve Bell, Burbank, California USA
Synner since: June 1985 @ 500 miles
SynLube™ Products used in this vehicle:
Motor Oil SAE 5W-50
MicroGlass™ Motor Oil Filter
TriMag™ Motor Oil Filter Magnet
Automatic Transmission Fluid (ATF)
Gear Oil (RE)

used in the Rear Differential

Cool-4-Life™ Antifreeze-Coolant
Stop-4-Life™ DOT 5.1 Long Life Brake Fluid
Maintenance
Motor Oil Filter was changed every two years.
Additional Information
This vehicle was donated by the original owner to the SynLube Car Collection @ 39,178 odo miles on 3/6/2010 when he was no longer able to drive due to poor vision.
---
Home | Motor Oil | ATF | Gear Oil | PSF | Grease | Coolant | Oil Filters | Magnets | Brake Fluid | Gauges | Tools | Specials | Sale Items
Send E-mail to synlube@synlube.com with questions or comments about this web site.
Copyright © 1996-2013 SynLube Incorporated
Last modified: 2013-02-24
Lube−4−Life®   is a Registered Trademark of   SynLube Incorporated
---







This web page was successfully Validated as: "HTML 5 with CSS level 3" and tested in all above browsers